Amig@s! We made it.
After six days, three and a half thousand kilometres across a post-lockdown Europe, we pull into Marbs.
So what was it like … what's going on where you might fancy a holiday you're wondering … or you may very well not be wondering?
We leave Wroclaw not knowing what to expect, and hoping the information we had obtained about hotels and border crossings would prove to be correct.
Not long after (uneventfully) crossing the border into Germany, the first of three stones collided violently with the windscreen of the RichieMobile, leaving a small but repairable dent. An hour later, a second stone left a crack extending from the top to the centre of the screen. This one was clearly not repairable, but the advice we receive from Poland is that it's safe to continue.
We stop for lunch at a diner and are told we must wear a mask to enter the restaurant, but once over the threshold it's okay to remove it.
Our first overnight stop is at Ulm, an unspectacular but pleasant city on the banks of the Danube. All is an acceptable shade of normal except for an absence of air conditioning, and some seriously overpriced wine.
DAY 2
Following an hour's jog along on the path parallel to the Danube and a decent breakfast, off we set.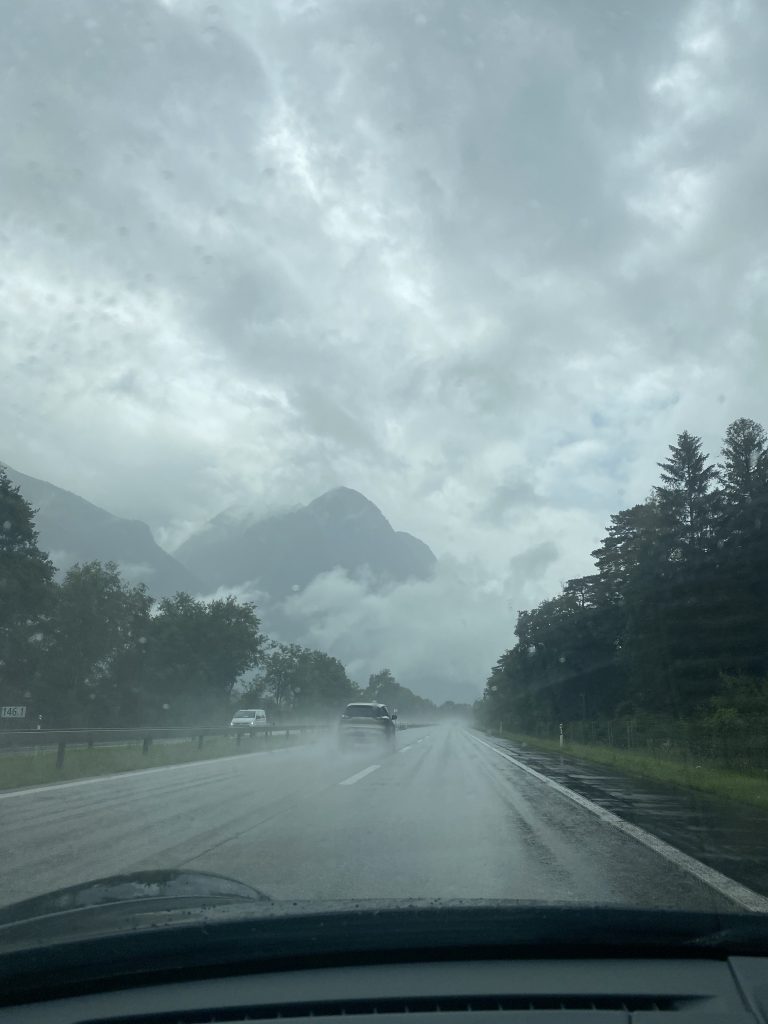 Our route takes us through Austria, Liechtenstein, Switzerland, before crossing the border into the Land of the Pizza Munching Reverse Jockeys … that's code for Italy, by the way. The weather, incidentally, is foul.
The price of petrol has been escalating faster than Prince Andrew's chances of going to jail, and at one point hits one euro ninety-five. Why, I wonder? Petrol costs around a euro a litre in the Land of The One Pound Pint … code for Poland – so why is it so expensive here? I'm left with the conclusion that the economic principle of charging people what it's considered they will pay mitigates the economic damage caused by the lockdown.
We pick up our third piece of windscreen damage, a large crack which ominously begins to march towards the other large crack, when we park the car in the sun at our lunch stop. Realising that the air con is exerting some kind of limiting force on the deterioration of the screen, we vow not to make that mistake again.
We overnight in Cogoleto in a delightful but 'lost in the mists of time' Psycho-House like hotel perched precariously on a cliff above the Mediterranean. Here we encounter the first real paranoia about the Chinese Flu, as the owner refuses to admit us without wearing masks. We are also subjected to temperature tests and given very clear instructions as to what is and what is not permitted.
I achieve some sort of payback by demanding a blanket to cover my car so that the pounce of cats that appear to belong to the not-yet-dead Mrs Bates do not leave marks when they sleep my roof – as they undoubtedly will.
In town however, things are very different. The only masks I see are dangling from ears and social distancing – particularly where kids are present – is non-existent. Bars and restaurants are busy; we have a pleasant meal in a seafront restaurant and I am denied a nightcap in the hotel's quirky Caribbean garden bar.
DAY 3
If you've ever been to Monte Carlo then you'll have made a mental note not to bother again.
As you will imagine, it's pricey – although bizarrely petrol is significantly cheaper than in Italy.
It's a city largely peopled by self-important homosexuals wearing nut-hugging, terry cotton shorts, driving either Bentleys or Lamborghinis.
For sure, there are some nice yachts in the harbour, but they're not much nicer than those owned by Russians in Puerto Banus, and … anyway, I have more interesting things to do than ogle playboys' big boats. If you think you detect a hint of envy here, amigo, you could well be right.
Today is a short day – it's just two hundred clicks to the delightful French resort and historic town of Antibes. We overnight in a wonderful – and agreeably French hotel smack bang in the heart of the Old Town. It comes with a price – our meal in the "Tomato" restaurant is superb, but the bill is well beyond the hundred-euro mark.
And what do the Cheese Munching Surrender Monkeys – that's code for the French, by the way – think of the Chinese Flu? It's as if it had never happened. Only the very old and the clearly vulnerable wear masks, and social distancing doesn't figure highly as a priority.
DAY 4
Another long day, nudging eight hundred kilometres. We head west through a plethora of tunnels and an endless string of unnecessary road works – at which, as usual, absolutely nothing other than queueing is taking place. Added to this, there is a never-ending sequence of tolls; the most annoying thing about the latter is that they don't even bother to tell you how much you've been mugged for.
Once past Montpellier, the road improves, traffic thins and we drive through some spectacular scenery as we advance on the foothills of the Pyrenees.
We overnight in the Spanish resort town of Cambrils, some ninety clicks south of Barcelona, and discover that Spain appears to be similarly disinterested in the wearing of masks or observing social distancing, but thankfully the price of petrol is back down to around one euro nineteen a litre.
However, we encounter a pocket of COVID-inspired madness at breakfast.
It's a buffet breakfast, of course, but you are not allowed to collect your selection of food, other than (bizarrely) to use the coffee machine. Each of us has our own personal breakfast waiter to whom we issue our selections for them to deliver the food to our table.
DAY 5
I take the opportunity to visit a very old stomping ground of mine – Gandia.
Having enjoyed many a happy holiday in this upper end of the market Brit-free holiday destination over a great many years, I decide that it's worth an overnight to see if much has changed during the twelve years since I last visited.
It has … I spend a frustrating hour battling with an excessively stupid (even by Spanish standards) one-way system before realising that the esplanade has been totally pedestrianised.
Gandia has one of the most beautiful beeches I've ever seen; it's a prestigious and popular holiday destination for Spaniards not keen in wading through piles of Brit vomit, and also has some fantastic restaurants.
As was the case in Cambrils, there's not much to remind you that we are supposedly in the midst of a world-ending pandemic.
DAY 6
After a run along the seafront and another buffet breakfast served by our own heavily PPE-protected personal butlers, we're on the road again.
The subject of the varying quality of breakfasts in the countries we'd visited was discussed over our repast.
'Look,' I say, 'It's really very simple. You get a proper breakfast in countries like the UK, Germany and Poland and this is the reason why the British, Germans and the Polish who are sober enough are good at fighting. A proper breakfast goes a long way in a military campaign. Just look at the track record of the French and the Italians? You can't win battles on soft cheese, can you?'
Enough said.
This is the undoubtedly the best day's drive, and not least because today we will reach our destination.
The weather is fantastic, the A7 and the A92 are traffic free – apart from one truck driver who tries to kill us – and there are no tolls.
As we hurtle past the snow-capped peaks of the Sierra Nevada the frustrations of the past months begin to peel away. It's hard to imagine that this could all go horribly wrong again and that we may even find ourselves back in lockdown because of a freedom that many feel is too much and too soon.
Malaga is behind us, we see the first signed mention of Marbella then we're off to the Whacky Races on the lower toll-free AP7.
Car parked, unloaded, we're unpacked and showered; six months of isolation and captivity has finally ended as I sip my first beer in the Moet, having received a magnificent welcome, whereupon I magnanimously promise staff signed copies of Losing The Plot.
And theres not a sign of a mask anywhere.
Chic@s – bit of a long one, this … back to politically incorrect cynicism in the next blog.
Stay sane … stay happy, and guard against extra-terrestrial violence, should you have the misfortune for it to come your way.